Hi Friends, Happy Wednesday! Altar'd State Black Friday Sales came early and are in full swing right now! I've rounded up some of my favorite pieces that are currently on sale. For a limited time, Sweaters, Outerwear, All Tops & Jewelry are BOGO 60% off and Skirts are BOGO 50% off. You can use Code:BREANAF&F for 10% off until the end of December. If you have any questions, just let me know. Happy Shopping xx
I'm wearing a size XS in the bodysuit and Sm in the jacket. I am currently obsessed with this jacket – it's so perfect to throw on for a casual running errands look paired with leggings or dress up a bit with the bodysuit and booties, for a night out. It's a lightweight, cropped, plus how cute is the subtle cheetah print?
I'm wearing a size SM in both the sweater and the skirt. The hound's-tooth plaid is very on trend right now and I've been styling this same skirt in multiple ways since September! My favorite way to style so far has been with an oversized turtleneck sweater and Over The Knee Boots. Plus, the skirt has pockets, and who doesn't love pockets?
Wearing a size SM/MD in the sweater + this is the Heather Mocha color. I love this piece because it's so versatile – i've been wearing this one to work from home to stay comfortable, but still look chic on all my Zoom calls. It Works perfectly for a casual office setting or pair with leggings and a dad coat for an everyday fall/winter look.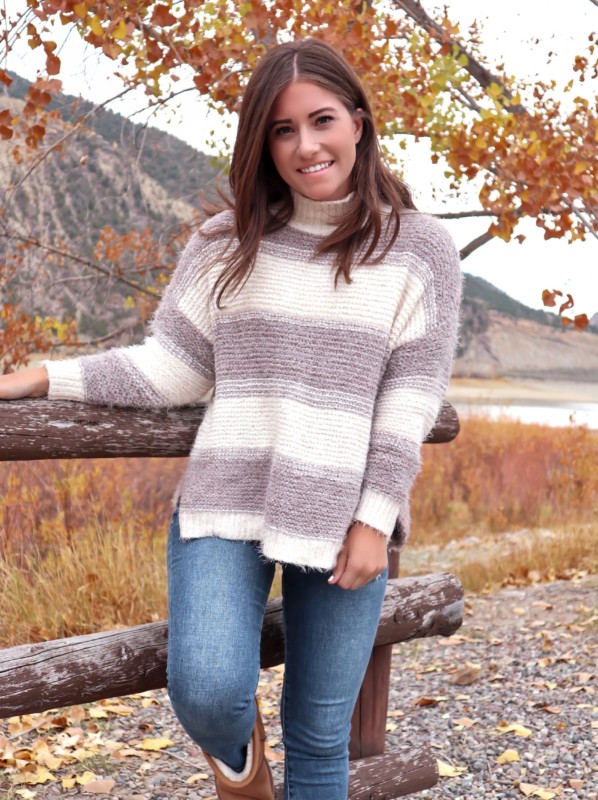 Wearing a size SM/MD and can you say SOFT? I wore this cutie on our vacation to Colorado and it's the perfect slightly oversized cozy sweater cabin days,
Wearing a size XS in the bodysuit. Again, how cute is this subtle cheetah print? Clearly i'm on a Cheetah kick right now. This bodysuit is so perfect for date night and pairs perfectly with a skirt or denim. I'm a big fan of this dainty hearts necklace set because it comes as three separate pieces which allows you to adjust the lengths or wear the pieces on their own.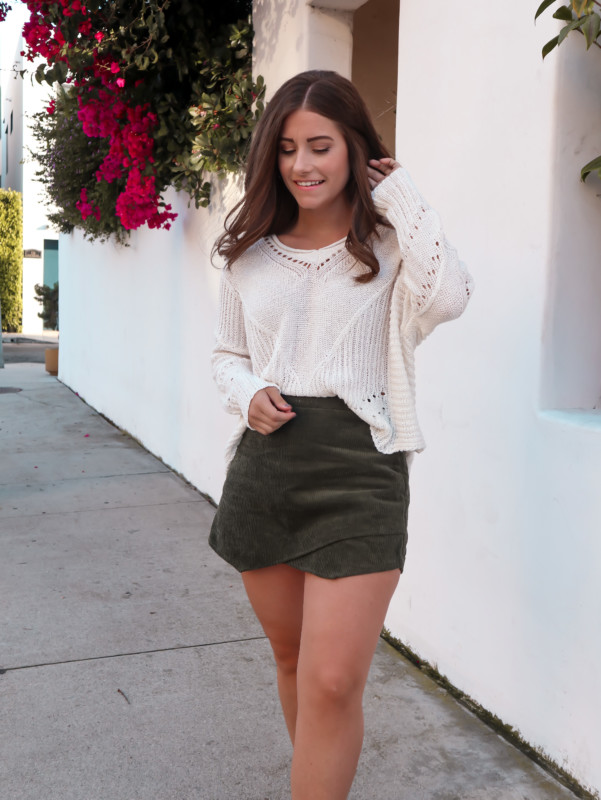 Wearing a size SM both sweater and skirt. This skirt is actually a SKORT, which reminded me, I don't know why I don't wear this style more often! The envelope style is very feminine and can be dressed up or down for many occasions. My favorite pairing with this skirt has been a lace cami and snakeskin booties for a day at the vineyard.