Charleston, South Carolina, is a city that oozes with history, Southern charm, and a rich cultural heritage. From its cobblestone streets to its antebellum architecture, Charleston offers a delightful mix of old-world elegance and modern vitality. If you're planning a trip to this enchanting city, here's a well-rounded itinerary to help you make the most of your visit.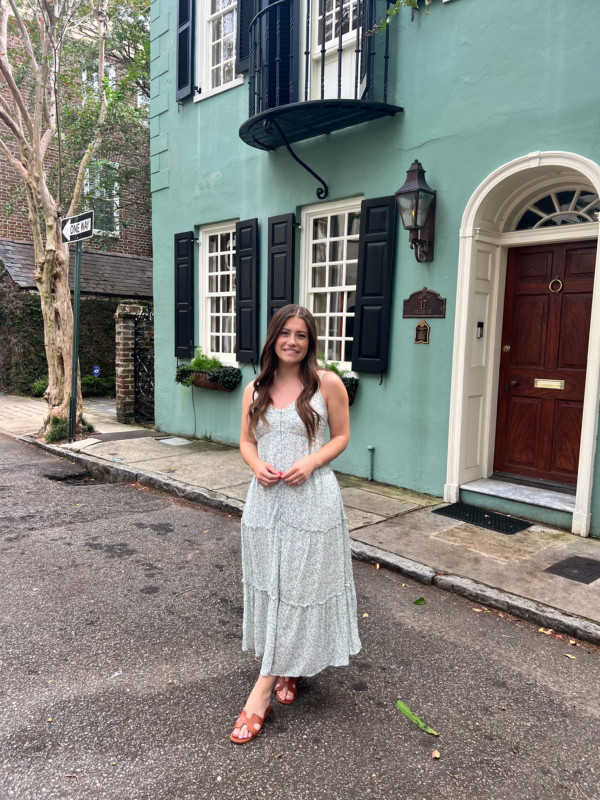 Day 1 – Historic Charleston
Morning: Visit The Charleston City Market – Kick off your Charleston: A 3-Day Itinerary with a historic landmark that dates back to the 1800s. The Charleston City Market offers dozens of market's shops, where local artisans showcase their handcrafted goods, from sweetgrass baskets to unique souvenirs. You'll also find a variety of dining options to savor Southern cuisine.
What We Ate: Callie'sHot Little Biscuit
Afternoon: Walking Tour of the City + Stroll the Waterfront – The city market is a great jumping off point to start a walking tour of the city. As you walk you will find yourself passing all of Charlestons must-see places – the historic colored houses, Americas oldest liquor store, and eventually you'll stroll right into the historic Waterfront Park. This iconic location offers breathtaking views of the Charleston Harbor and the famous Pineapple Fountain. It's an ideal place to take in the serene beauty of the city while enjoying a picturesque view of the water.
Historic Horse & Carriage Tour – After seeing these all over town we decided to book a tour. We used the Old South Carriage Historic Horse & Carriage Tour company, but there are a number of companies all over the city to choose from. Your tour will cover about 30 blocks and 300+ years of history. Though specific landmarks vary by route, all tours pass by sights that give Charleston its unique charm – custom wrought iron gates, well-manicured gardens, historic mansions with picturesque piazzas, and the many church steeples of the "Holy City." Part of the charm of the tour are the horses that pull the carriage. These are the same kinds of draft horses that worked on American farms in the early 1800s, making this voyage all the more authentic.

Where We Ate: Darling Oyster Bar
Raw Bar
Creole Shrimp
Seared Diver Scallops
Commodore Jazz Bar – We had originally planned to go to a jazz bar we passed on King St., but at the recommendation of our bartender during dinner we went to the Commodore Jazz Bar instead! We were thrilled we followed this recommendation. At the bar, they've preserved the same row of vintage brass and green velvet bar stools and glossy black tile that sparkles with the light of chandeliers. Velvet curtains surround the stage, as the disco ball casts patterns of light onto the dance floor, while comfortable booths for sipping signature cocktails beckon you to stay awhile. Both bands we saw perform were wildly talented and the vibes were high all night long.
Day 2: Plantations and Gardens
Half Day – Boone Hall Plantation – Boone Hall Plantation is another historic gem, often referred to as "America's Most Photographed Plantation." The grand entrance lined with oak trees is an iconic image of Southern beauty. Explore the plantation's rich history and the Gullah culture, which played a significant role in shaping Charleston. Be sure to take advantage of guided tours of the mansion to see how this Georgian-designed home blends recovered materials and antique furnishings to recreate an atmosphere that would have surrounded a Coastal Carolina planter's family and his guests. Take a stroll of the beautiful property and you'll likely recognize a few filming spots from famous movies, like The Notebook.
Dining on King Street – King Street is Charleston's shopping and dining district, and it's teeming with restaurants offering a variety of cuisines. Whether you're in the mood for Southern comfort food or international flavors, you'll find something to satisfy your palate on King Street. No Charleston: A 3-Day Itinerary is complete without a visit to King Street.
Where We Ate: ChubbyFish – categorically the best meal we have ever eaten! ChubbyFish doesn't take reservations. Prospective diners tend up line up around 4:30pm for a 5:00pm opening time. Once open, ChubbyFish will fill the restaurant from the line until full, once full they'll take your name and give you a time to return. We got there at 5:15pm and had a table for 8:00pm. While we waited for dinner we went for some wine at Uncork. Uncork is Charlestons only exact pour wine with over 40 unique wines to choose from!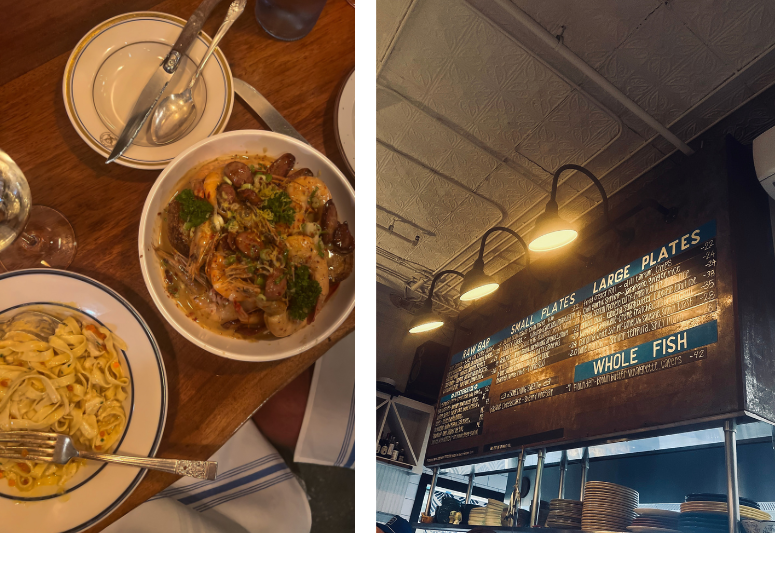 Charleston After Dark – Charleston is known for its ghostly legends and haunted history. After dinner, join a ghost tour to explore the city's eerie side. A knowledgeable guide will lead you through the cobblestone streets, sharing spine-tingling stories and historical tidbits about Charleston's haunted past. If a haunted history isn't your thing, there is a robust nightlife in Charleston, which includes live music at every turn, laidback wine bars, and a variety of nightclubs.
Day 3: The Beach and Arts
Where We Ate: Poogan's Porch
Zoe's Iced Coffee
Chicken Fried Pork Chop
Shrimp & Grits
Morning: Folly Beach – Start your day by soaking in some sun at Folly Beach, a short drive from downtown Charleston. With its laid-back atmosphere, pristine sands, and numerous water sports activities, it's the perfect place to relax and recharge.
Arts and Culture – Spend your afternoon at the Gibbes Museum of Art, located in the heart of Charleston. The museum features an impressive collection of American art, including pieces with a Southern focus. You'll also find rotating exhibits showcasing a range of artistic styles.
Afternoon Drinks: Satellite Rooftop Bar
Charleston's Cuisine – Wrap up your trip with a memorable dining experience at one of Charleston's renowned restaurants. The city is famous for its Lowcountry cuisine, so be sure to try dishes like shrimp and grits or she-crab soup at a local eatery. Some other restaurant recommendations include: SouthBound, 82 Queen, and Halls Chophouse. If you're looking for a little something sweet, River Street Sweets have excellent Pralines and I suggest you grab a souvenir tin of Byrds Famous Cookies to bring a piece of Charleston home with you.
Charleston, South Carolina, is a city with a unique blend of history, natural beauty, and vibrant culture. This Charleston 3-Day Itinerary will help you make the most of your visit, but remember that Charleston has much more to offer. So, whether you're a history buff, a foodie, or simply looking to relax on the beach, Charleston is a city that caters to all interests and is sure to leave you with wonderful memories of your trip. Enjoy your visit to the Holy City!

Where We Stayed:
Elliot House Inn – Located on Queen Street, the coral-hued Elliott House Inn blends boutique hotel services with the easy intimacy of a quaint inn. Built in 1861, this historic 26-room inn is located within walking distance of Charleston's best shopping, dining, and exploring. Elliot House offers complimentary beach cruisers to borrow and offers a wine & cheese reception for their guests, every evening.
Questions or comments about visiting historic Charleston? Share in the comments below or DM me on Instagram @breanamonique_!