Looking for a sunny spot and a dose of desert glam? Add this hotel to your must-see, must-stay hotels list immediately!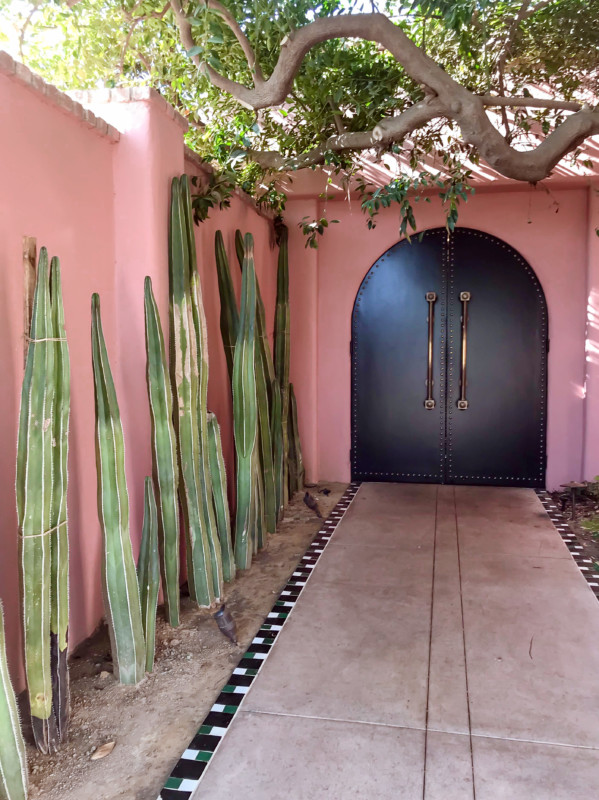 The Sands Hotel & Spa Palm Desert is located off of State Route 111 in Indian Wells, which is very near to Palm Springs. This was just a weekend getaway for us, so we drove from our home in Los Angeles, which takes about two to three hours (depending on traffic). If you're flying in from outside of Cali, I recommend flying directly to the Palm Springs Airport.
One of the highlights, in my opinion, is that the Sands Hotel is adults-only and is not open to non-hotel guests. So, if you're looking for a super relaxing spot to get away, this is IT! The hotel itself only offers 46 rooms, which keeps the number of hotel guests minimal and offers up total relaxation. They know who all the guests are, so they know if any looky-loos slip in to wander around. The staff is so nice and wonderfully attentive. They will check in on you periodically and are very committed to making sure you have an enjoyable stay.
The entire hotel is Moroccan-inspired with mid century accents. The hotel is rose pink with pops of white and black all over the place – I could not stop admiring all weekend. They don't mind at all if you take photos at the hotel, they expect it at this point. Some of the staff will even offer up some help so you can get the best shots.
The Pink Cabana
If you're not interested in a stay, but still would like to visit (for the gram, I get it), I recommend making a reservation for lunch, dinner, or cocktails at the Pink Cabana.
The on-site restaurant, The Pink Cabana, offers a menu focused on Mediterranean cuisine with a Moroccan influence. The award-winning Chef, works with his team to deliver an exceptional array of dishes. For brunch, we had iced Turkish Coffees and a few things from their seasonal menu, including Moroccan Pancakes, which were Delish!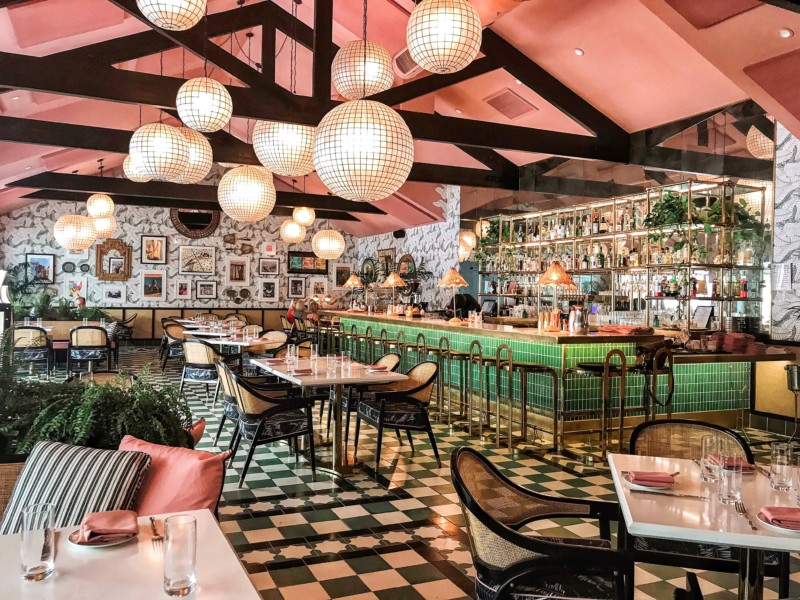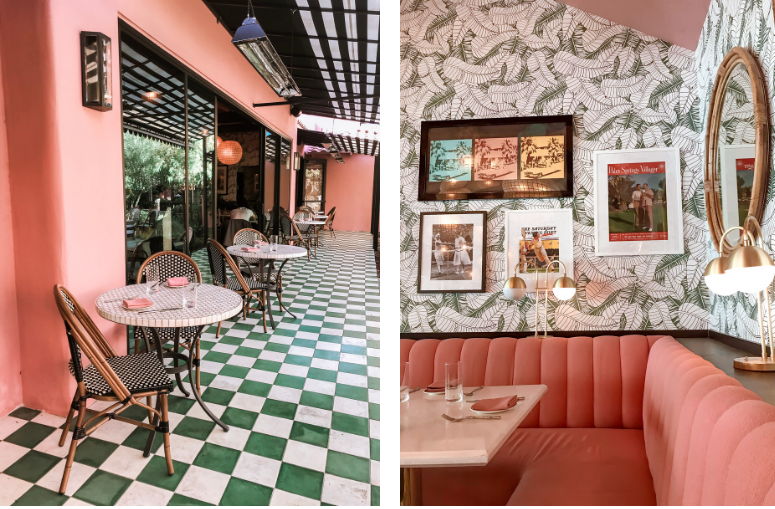 Pool Day
After brunch, we moved to spend the day lounging by the pool. It was 118 while we were there and pretty much always is, so plan for that if you decide to visit. They have perfectly designed this hotel to have enough daybeds and cabanas for all of the guests, so we had no trouble finding space to lounge. I took the liberty of spending the day working my way through their list of very refreshing aperitifs – my favorites were the Hot To Trot and the Pink Lemonade.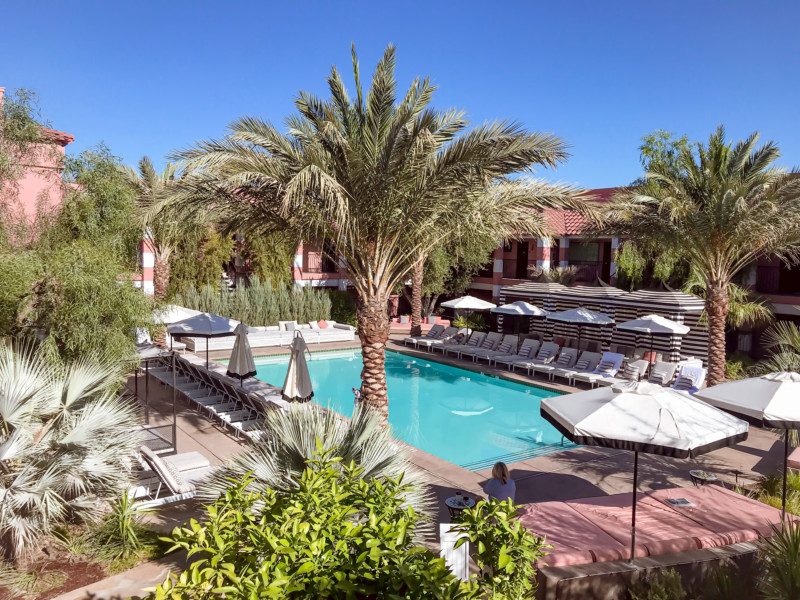 Our Room
The first night we stayed, we ended up taking an Uber to downtown Palm Springs to have dinner at the Tommy Bahama Restaurant. The second night, we were in full on relaxation mode, so we stayed in our rooms, wore fluffy hotel robes and ordered room service from the Pink Cabana. All of the rooms come with Acqua di Parma bath amenities and Netflix, so you can imagine just how relaxed our night in was.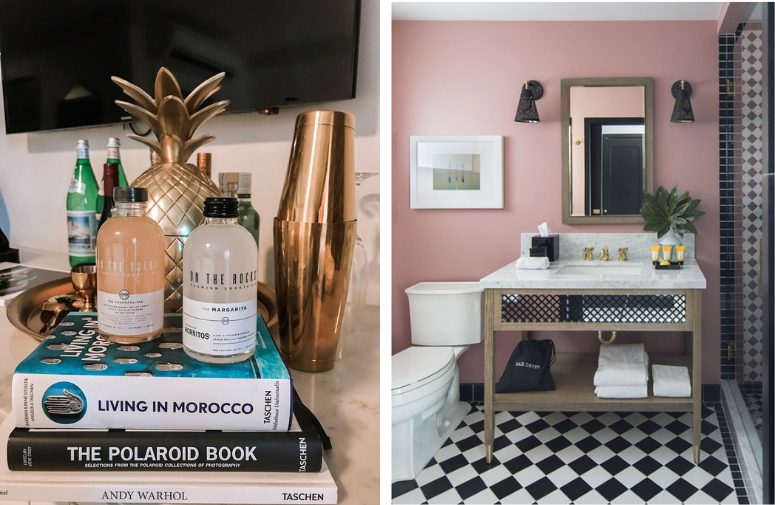 The Spa
This trip was a bit of a whim for us, so the hotel was fully booked for spa treatments the weekend we visited. However, their selection of services looked AH-mazing and are all offered using naturally-sourced ingredients from Morocco. I'll absolutely be getting a facial and massage during our next visit! Also, can we talk about how beautiful this spa is?
To sum it up, The Sands Hotel is a wonderful boutique hotel, with exceptional service and delicious food. It's the perfect weekend getaway for couples looking to relax or an Instagram worthy girls weekend.
Questions or comments about planning a trip to Palm Springs or the Sands Hotel & Spa ? Share in the comments below or DM me on Instagram @breanamonique_!