Happy Monday Friends! I can't believe we are a few weeks away from 2020, coming to a close. March seemed to last for six years and suddenly here we are closing out December! I think most of us are excited for 2021 for so many reasons, but I wanted to take a minute to let you babes know how thankful I am for each and every one of you and your support this year! I know this blog is still just a baby, but your love and support when I announced it was live was unbelievable! I love being a resource for you all and sharing all the good sales. It brings me so much joy to share some of my most loved things and see what you all are loving too! so, I've rounded up your top 10 favorites from 2020 from LIKEtoKNOWit !
#1 – Kaylah Pointed Toe Bootie
I shared these Kaylah Booties only a few months ago, during the NSale just like every other blogger and we all went wild for them! Actually, I think they sold out and were restocked multiple times throughout the sale. Anyway, I ordered these in two colors and have not stopped wearing them since they arrived. I love the pointed toe because it has a slimming effect and they turned out to be super comfortable.

#2 – Lace Trim Satin Camisole
This lace satin trim cami is such a staple in my closet. I own it in three colors and it pairs with so many different outfits! Makes for a great date night look, dressy wine tasting outfit, and I've even worn it to work paired with a blazer on several occasions.

#3 – Parker Bikini
The Parker Bikin is pretty much the best bathing suit I have ever owned. The quality is amazing and well worth the price tag. Plus, I strongly believe this cutie is universally flattering – I had seen it on so many different body types all over insta during the summer and every time just kept thinking "wow that looks FIRE on her"! That's how I was influenced to make this purchase, and I'm so glad you girls ended up loving this one too. I will probably pick it up in another color for next summer.

#4 – Ultra High Rise Straight Jeans
I post a lot of skirts and dresses, but don't be fooled – I Love wearing jeans. These ultra high rise straight jeans became a fast favorite for all of us this year. I love that A&F offers short (and now extra short) lengths for us short girls, plus the ultra high waist on these made them SUPER flattering.
#5 – Brixton Nail Bangle
This one doesn't surprise me! There are so many cute designer dupe bracelets from this brand. The Brixton nail bangle is perfect on its own or paired with other bracelets or your watch! I've shared with you girls in the past, I love wearing this nail bangle because sometimes is a reminder that I am tough, and many of you really resonated with that.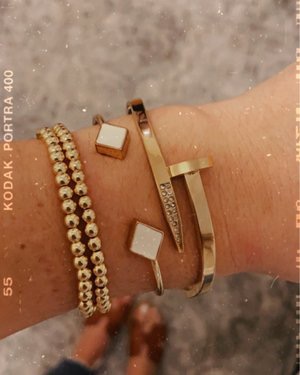 #6 – High-Waisted Animal Print Midi Skirt
One of my favorite midi skirts to date. I loved the subtle slit on the side and was such an easy piece to style for Fall and Winter. I'm already trying to think of ways to style for the Spring as well! Other than how cute this piece is I think we all especially loved that this skirt is only $14! It's sold out and been restocked three times over the last six months, but is currently full in stock if you still want to grab it!
#7 – Good Vibes Corded Oversized Sweatshirt
I take a daily, sometimes twice daily, walk on the beach and this corded oversized quarter zip has been my go -to for months. Very cozy and perfectly oversized, which is likely how it made it's way onto this list. Besides being a top seller with you girls, I've actually spotted several girls wearing this one IRL, so clearly we all love it! Available in a bunch of pretty bright & neutral options.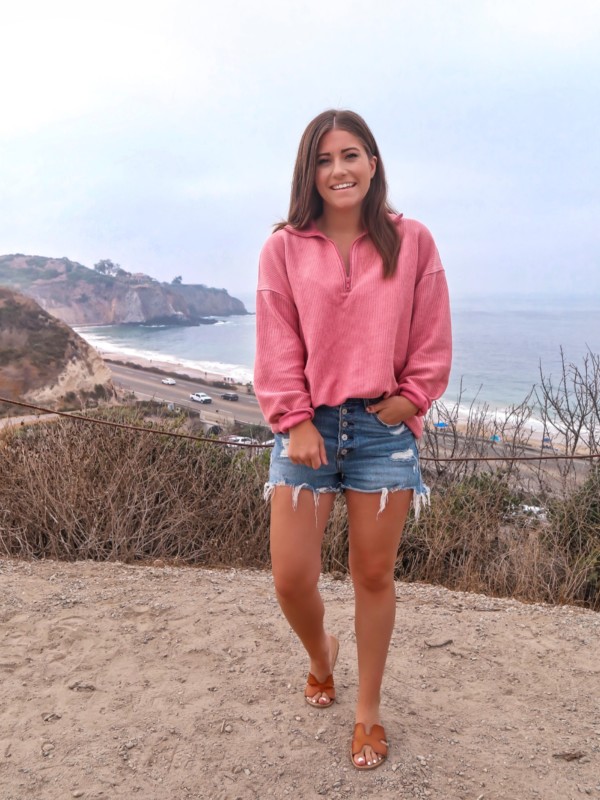 #8 – Spanx Faux Leather Leggings
The one and only Spanx Faux Leather leggings are a MUST have! They're SO good! Super comfortable, amazing quality, suck you in, last forever! Because of the subtle sheen, they are super easy to dress up, but also pair really well with a cute casual look as well! I love mine!
#9 – Off the Shoulder Sweater
This off the shoulder sweater is one of the softest Sweaters I have ever owned. I love that you can wear it off both shoulders or just go with off one shoulder for a bit of a sexy date night look. You can even not go off the shoulders and have it just sit like more of a cowelneck, which pairs so cute under a winter coat.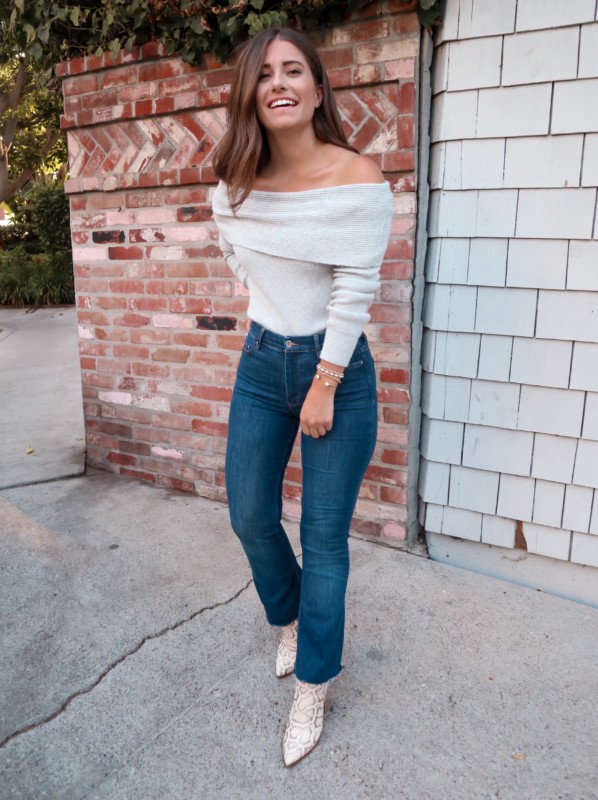 #10 – Tarte Shape Tape Concealer
Shape tape is a cult favorite product for a reason, so no real surprise this one made the list. A little bit goes a long way to blend for an instant lift. You can even dab some excess on your lids for an eyeshadow primer too. The hype is real on this concealer and it's a great way to fake having gotten your full eight hours of sleep.